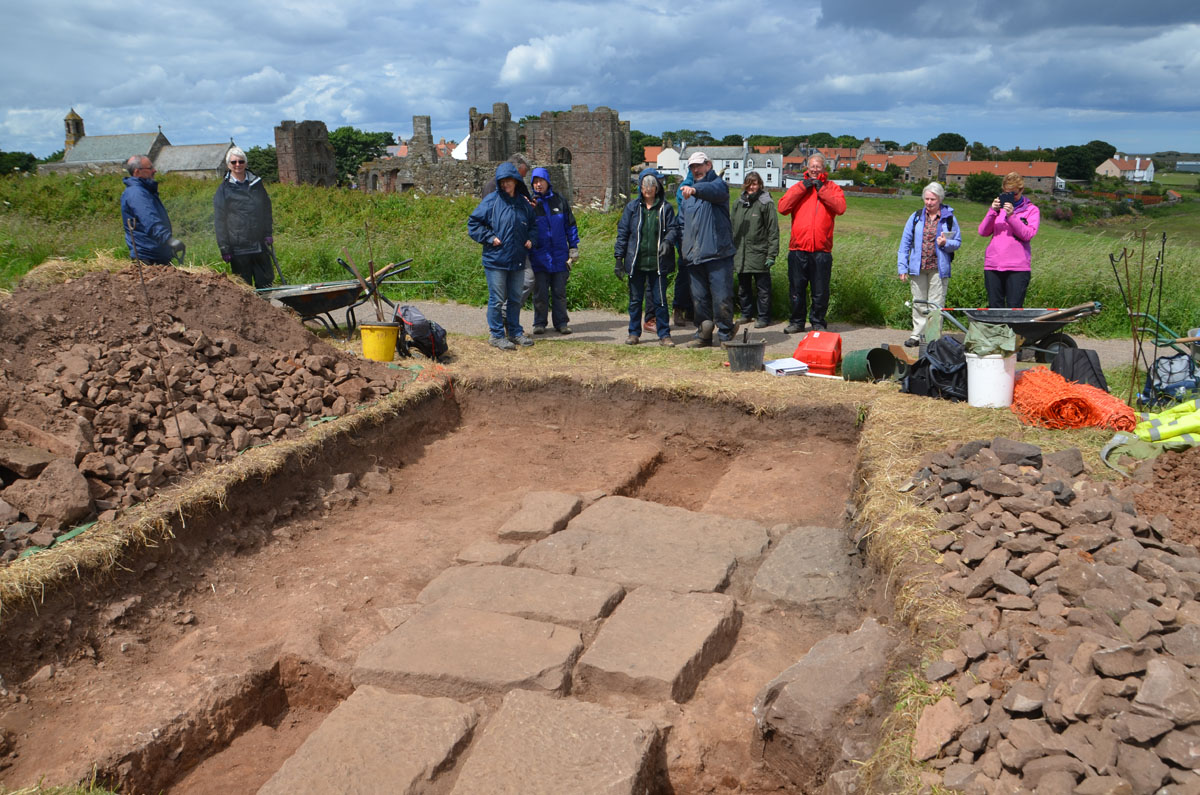 Weeks of archaeological investigation and excavation have resulted in fascinating new discoveries and exciting plans for the Community Archaeology project in 2017.
The first season of archaeological investigation and excavation by the Peregrini Lindisfarne Community Archaeology project came to a successful conclusion this week. The season started with training excavations at two limeworkers cottages sites at Cocklawburn and the Kennedy Limekiln site on Holy Island. The project, under the expert guidance of Richard Carlton and staff from The Archaeological Practice, Newcastle, then turned their attention to Holy Island Heugh. The majestic Heugh on Holy Island has always piqued archaeologists' interest given its close proximity to the ancient priory site and the obvious defensive and strategic advantages of the prominent whinstone ridge. In 1962 the renowned archaeologist Brain Hope-Taylor conducted some preliminary investigation at the site and concluded that the Heugh is scattered with buildings of an early date that were possibly associated with the 7th-9th century monastery.
The task for Peregrini Lindisfarne Community Archaeology project this year was to 'ground truth' Hope-Taylor's conclusion in anticipation of carrying out more detailed excavation next year. The trench opened nearest the war memorial revealed the foundation of a massive 2.5m wide wall. The size and structure of the wall is suggestive of a tower and the lack of any mortar suggests at least a pre-Conquest date. A second trench was opened further east and again revealed the foundations of another unmortar stone structure which again is indicative of a building of early medieval origin.
Hope-Taylor is known to have excavated another part of this structure and concluded that the building was a church. Richard Carlton, director of The Archaeological Practice overseeing the Peregrini Lindisfarne Community Archaeology project said "These initial excavations are very promising, whilst early days in terms of our understanding the evidence does suggest two early medieval buildings in an important location that is associated with the priory. Further excavation planned for 2017 will help us to date the buildings as well as establish their function."
Historical sources known from the 8th century refer to there being at least two churches on Lindisfarne as well as a guesthouse, a dormitory and a watch tower. Sara Rushton, the Conservation Manager at Northumberland County Council said "Holy Island is one of the most significant sites in Britain in terms of early medieval heritage, there is a real possibility that we have uncovered two very significant buildings associated with the early Christian foundation of the priory which could provide a tangible link to the time of St. Cuthbert". The Venerable Bede, in his 'Life of St. Cuthbert', made reference to a signal from Inner Farne being seen on Holy Island to mark the death of St Cuthbert. This latest find has led to speculation the massive wall could be evidence of the actual watch tower where the signal was received.
Volunteers for the next season of archaeological investigation should contact the Archaeological Practice on info@archaeologicalpractice.co.uk or 0191 273 0777