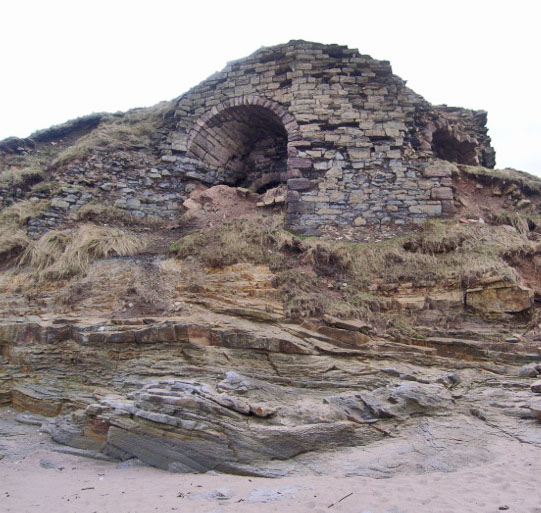 What a thoroughly enjoyable and informative morning! Just spent the morning with some wonderful Peregrini volunteers and the leads from the three Peregrini Community project - Linda Bankier - Archive, Richard Carlton - Archaeology and Ian Kille - Geology - at a Limekilns Workshop held in Berwick Records office.
Linda showed us the array of documentary sources available to us to help refine our understanding of our industrial past while Ian took us back 200 million years to the formation of limestone through the compaction of sediments and skeletal fragments of marine organisms such as coral, forams and molluscs. Richard talked about the limekilns and the archaeological record and the wealth of kilns surviving along the coast. He provided a fascinating insight into how limekilns worked and just how arduous a task lime production was. Whilst the return of 1 tons of lime from 2 tons of limestone seems a relatively good the conditions and heat must have been unbearable.
This initial workshop was intended as an introduction to planned field work to record and research the lime kilns of the Peregrini area. Interestingly the social impact of the industry was one of the main themes to emerge from today's discussion with the volunteers keen to do further research to look at average life expectancy of a lime worker on the north Northumberland Coast and also when and why the industry eventually ceased.
When we look at these, often majestic, solitary features in the landscape it is difficult to image them at the centre of a hectic industrial landscape - they must have looked something more akin to John Martin's 'Destruction of Sodom and Gomorrah' than the normal tranquil images associated with the Northumberland Coast Area of Outstanding Beauty.
Many thanks to Linda, Richard and Ian for a brilliant, absorbing and informative morning and I look forward to seeing the results of the research and condition surveys. If anybody is interested in volunteering please get in contact with any of the Peregrini staff team - peregrini@northumberland.gov.uk 01668 213086
Article written by Jessica Turner, Peregrini Board representative for the Northumberland Coast AONB
Other Photos