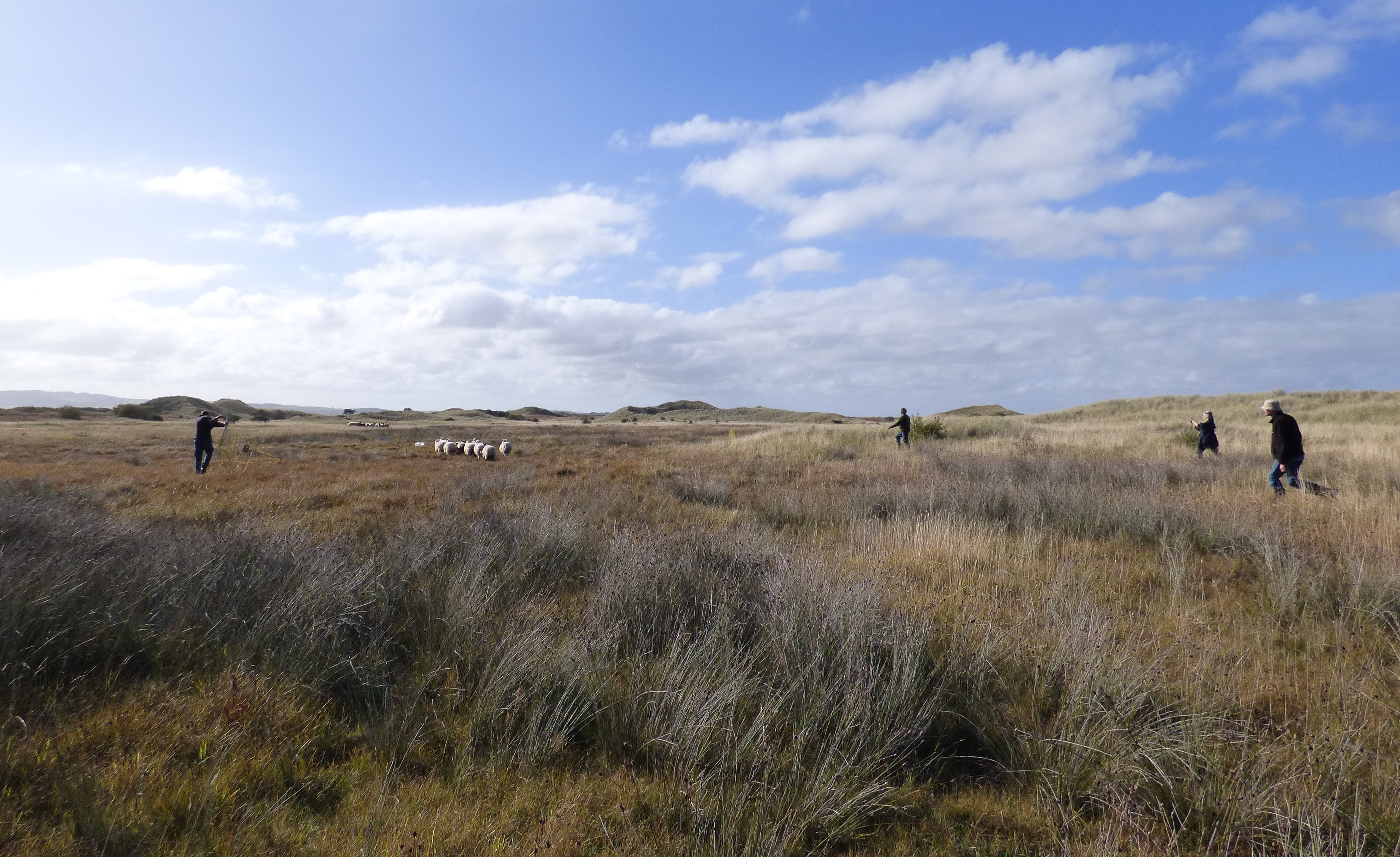 The grazing of sheep between now and Christmas will assist in the management of dune grassland on Holy Island. The arrival of 30 sheep last week is just one part of this Peregrini Lindisfarne-funded project, led by Natural England, that aims to improve natural habitat and inform its future management.
Stock grazing is not new to Holy Island and, of course, looking after the dune grasslands is a key aspect of the work on the Reserve. This year however the scale of the project has been increased with support from the Peregrini Lindisfarne project with an extension to the area to be grazed, an increase in the size of the flock and an investment in equipment to contain the animals.
The grazing pattern of stock benefits key species, such as the unique Lindisfarne helleborine, and will reduce the impact of invasive species like the pirri-pirri bur and the Michaelmas daisy. The animals nibble at the sward at different rates creating a mosaic of grasses of differing length which in turn is of great benefit to the range of invertebrates the Reserve is noted for.
Alex Dodds has been appointed as seasonal warden to help look after the sheep. Over the next three months Alex will also be undertaking vegetation surveys of the whole dune system. "After spending the summer as a Shorebird Warden monitoring Little terns, I'm excited to be back at Lindisfarne NNR as a winter Seasonal Warden" Alex said. " My work is focused on livestock and practical habitat management, as well as carrying out extensive invasive and non-native plant survey work on Holy Island. I'm looking forward to being involved in the wider reserve management throughout the next few months – persevering through the colder weather and carrying out practical habitat work during the winter is what shapes the success of the summer. I'm getting used to working on Holy Island and planning my schedule around the high tides. I think the coast during winter is often underrated but I'm hoping for a few dramatic stormy days - I'm sure I can cope with a Northumberland winter as well as our livestock out on the Reserve."
These four-legged arrivals to the Reserve clearly play a special role in maintaining this outstanding dune habitat. We wish Alex all the best in her new role. Watch this space for opportunities to find out more about this exciting project in the coming months.
Other Photos