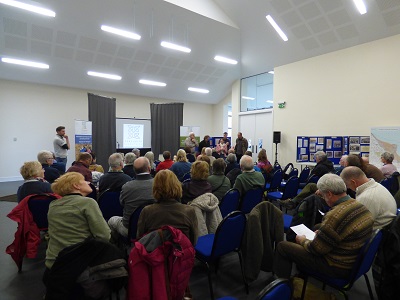 "I've learnt so much about the people, places and county I call home" - Peter Slater, Community Projects Volunteer. Here's our sum up of the second Peregrini volunteer conference, held on the 4th March at the Crossman Hall, Holy Island.
The conference was well attended with 70 participants - a mix of volunteers and people interested in the work of the Landscape Partnership. The conference demonstrated that collaborative working, particularly between the three Peregrini Community Projects (Geology, Archaeology and Archive) is teasing out a richer understanding of our landscape area.
Our Vice-Chair, the Rev. Paul Collins opened proceedings with thanks to the volunteers and to the Heritage Lottery Fund for making the Peregrini Lindisfarne Landscape Partnership possible. He was followed by Dr Ian Kille of the Community Geology Project who outlined "in threes" the results of the project so far and its objectives for 2017. This year Community Geology will focus on the impact of the Ice Age; climate change in action; and the Carboniferous period some 350 million years ago. Ian was ably supported by Peregrini volunteer Peter Slater who gave a personal account of his involvement in a variety of Peregrini projects, including his exciting geological discovery last summer. During the dig on the Heugh, Peter uncovered strange shapes in the bedrock. He was able to identify these shapes as evidence of the flow of the molten rock as the whin cooled. Such 'bubbles' are only visible in two other places in Northumberland - Harkess Rocks off Bamburgh and on St Cuthbert's Isle.
Peter was not alone in standing up and giving his account of becoming involved in the Peregrini Lindisfarne Landscape Partnership. Fellow Community Projects' volunteers Alison Jackson and Nigel Sumerling both spoke eloquently about their experiences over the past year or so. Highlights for them included learning new skills, making connections, exercise (both physical and mental!), enjoying shared experiences with new friends, and an introduction to new places, new organisations and groups. Volunteer Nadine Castleman and Kate Anderson (Helix Arts) presented their Immersive Northumbrian Landscapes project. This arts project, funded by Peregrini in partnership with Helix Arts, has provided art project management training to half a dozen volunteers. Nadine and her colleagues have now appointed two landscape artists - Lindsay Duncanson and Graham Patterson - who will be running creative workshops over the coming months. The art works will be displayed on Holy Island in June.
Over lunch, participants had the opportunity to browse exhibitions from partners and associated organisations Natural England, Northumbrian Earth, Berwick Archives, and the Archaeological Practice. The Peregrini Marketplace showcased recent and ongoing projects such as conservation work, landscape appreciation and costume making. Artist Anna Turnbull was in residence during the conference completing larger-than-life willow sculptures of a lapwing and a short-eared owl. These sculptures are part of a series, created by volunteers with guidance from Anna, to be sited on Natural England's nature trail that loops north of Holy Island village.
Presentations were also given on the Community Archive and Community Archaeology Projects. Linda Bankier's talk highlighted the 'surprise of Cocklawburn'; project leaders had not anticipated the wealth of evidence and interest in the industrial and social heritage of what now is a scenic stretch of coastline. Community Archive Project priorities for 2017 include digitising the Professor Sheddick archive - a wonderful and unique resource for family history research on Holy Island from the 1700s to the 1950s.
Richard Carlton began his talk saying "archaeology engenders humility" - with such a vast area geographically and in time, the Community Archaeology Project is only scratching the surface. However from the 2016 investigations of limekiln workers cottages, a possible early medieval tower on the Heugh and an enigmatic enclosure at Fenham Common Slap, our Community Archaeologists are adding to the body of evidence - or 'what we know' - about this significant landscape. The Community Archaeology Project has lots planned for 2017 - including historic building surveys, hands-on workshops, and the summer dig on Holy Island.
Our keynote speaker was Rob Young, archaeologist and co-author of the English Heritage book Lindisfarne Holy Island. The hefty title of Rob's talk 'Assessing Lindisfarne's 'Heritage Significance' provided a perfect raison d'etre for the conference as it articulated the multi-faceted interest Lindisfarne holds for so many people. Rob succinctly presented the heritage values of the Island - evidential value, historical value, aesthetic value, communal value - and in doing so demonstrated how the ability to articulate this 'significance' ensures our shared heritage is cherished and passed on to future generations.
Niall Hammond from the Heritage Lottery Fund pulled the day together with an overview of Landscape Partnership schemes, giving the national and local context. To quote Niall "Landscape Partnerships mix up the 'ologies'"; and they create connections in knowledge, in management and in communities. Niall ended his presentation with a challenge to all to not stop once the Peregrini Lindisfarne scheme comes to an end this year, but to keep involved in local heritage. And to seek support from the Heritage Lottery Fund for this!
Other Photos